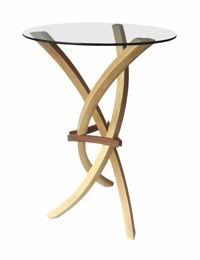 'Triquetra Table', a hall table designed by
Ronán Lowery
for
Design Onion
epitomises the idea of an
Irish design
, that could be called Gaelic or Celtic while at the same time embodying modern style. In a post-colonial country where 'true' or 'pure' identity is hotly debated, I would argue for the adaptation of simple traits in our ancestors' design and style, to be recreated into something that is relevant to today's culture and the competitive design market. This is exactly what Lowery has done in his creation of this piece, as he explains himself:
The inspiration for this hall table came from the Celtic "triquetra" symbol. It is considered to represent the three domains of earth according to Celtic legend - earth, sea and sky as well as the triplicities of mind, body and soul.*
Lowery utilises one common symbol from the Celtic style to create something functional and visually striking; the
triquetra symbol
is dragged from the vellum pages of medieval manuscripts and tired clichéd usage in popular culture to become something edgy and elegant all at once. The wood has a two-toned effect, with walnut rails edging around ash legs that are laquered to finish. The table top is glass that is fixed to the wooden legs with brushed stainless steel pins.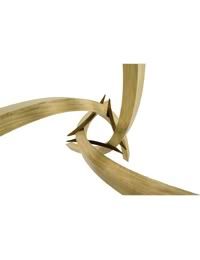 Lowery combines his love of nature and fascination for geometric shapes in his designs, which creates 'smooth flowing furniture but with a very ordered look.'
*
Added to this is his sensitivity to his clients, aspiring to have their personality, taste and needs reflected in his work. He works on a commission basis for Design Onion, based in Co. Armagh, and assures that the finished piece will be the result of an intimate collaboration between himself and the client.
Design Onion was founded in 2007 by Lowery and fellow furniture designer
Eric O'Donnell
, who both studied Furniture Design and Manufacture in Letterfrack furniture college. Though O'Donnell has since taken a step back from this business venture in order to pursue other projects,
this video
featured on You Tube offers an insight into how a design piece is conceptualised and created, keeping in with the theme of an Irish design style using traditional methods in the